Tips & Tricks for New Contact Lens Wearers
Are you switching to contact lenses? Lucky you!
Now, you can embrace your newfound freedom and fully express your natural look without thinking about frames sliding down your nose or falling off altogether. But this new gift comes with great responsibility – and we know it can be a little scary. Don't worry; it is only because it's your first time. In no time, you'd go from new contacts wearer to a pro.
So if you are ready for our few tips for first-time contact users, jump right in!
Clean, Dry Hands Are Key
On our number one, we have hygiene. Whether you are wearing or removing contact lenses, it is essential that you FIRST wash your hands. You can wash your hands with tap water or warm soapy water. Don't forget to dry your hands using a lint-free cloth.
Always Clean Your Lenses
Still, on the topic of cleanliness, you must also clean your lenses before wearing them at all times. Every lens case comes with a cleaning solution that you can use to clean lenses. To clean contact lenses, wash your hands with mild soap, drying them with a lint-free towel. Next, apply some contact lens solution to the lenses, and rub gently. Don't apply too much pressure on the lenses so as not to break it.
Another alternative to rubbing the lenses is to place them in contact solution, soaking them for 20 minutes or an hour. Remember to use a fresh contact solution every time you want to keep your lenses clean.
Clean and Replace Your Contact Lens Case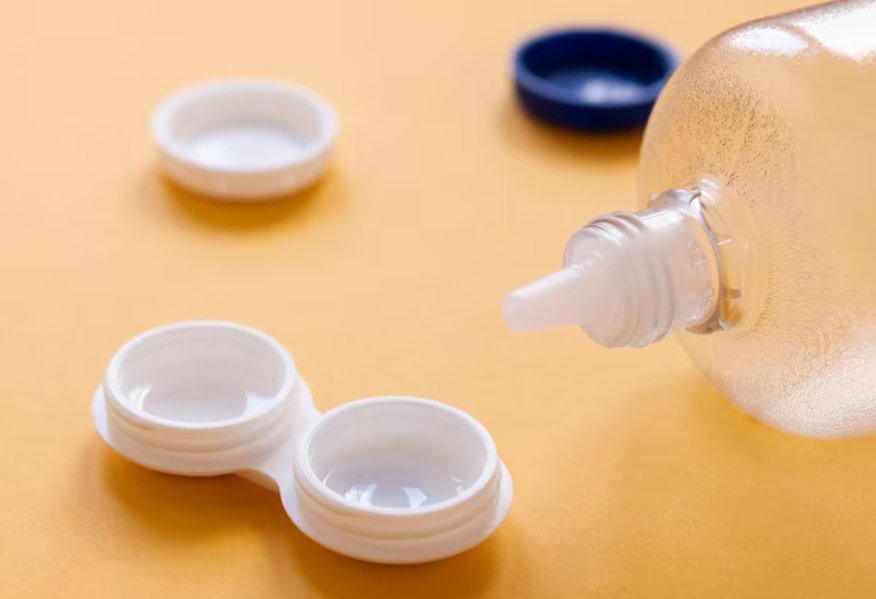 It's not just your contact lenses that get the attention; even the lens case needs attention. To clean contact cases,
You first need to empty the contact lens case, ensuring there is no old solution left in it.
After this, scrub the inside of the contacts case with your finger (make sure to wash your hand first).
Do this for at least 5 seconds to ensure the contact case is disinfected from all the eye infections that might be settling in it.
After this, use a disinfecting solution to rinse the case before using a towel to dry it off. You can also allow the case to air dry if you wish.
Finally, pour a fresh solution into the case, and that's all.
Read also: How to Clean Your Contact Lens Case
Try a Multipurpose Solution
This is a trick that many people who wear contacts don't know. There are too many solutions needed when wearing contact lenses. There's the cleaning solution, disinfecting solution, and so many more solutions.
Not to mention that you need to use a fresh lens solution after every cleaning season (and you need to clean your lenses every day as long as you're wearing contacts every day). So a trick is to get yourself a multipurpose solution. Besides, this solution works on all lenses – disposable lenses or even cosmetic lenses.
Learn How to Put on Your Contacts
Now that you know of all the proper care methods let's see just how your contact lens wearers do their thing. The following are the steps to put in contacts as a beginner.
Wash and dry your hands thoroughly.
Place the contact lens case on a flat surface, open the case
With your fingertips, remove one of the lenses and put it on your non-dominant hand, then follow through with rinsing. Remember to use only contact lens solution for this, not water.
After rinsing, move the lens to the middle finger of your dominant hand (the hand you use when writing).
Make sure the lens is set to the correct position. That means the correct side of the contact lens should be facing up so that it looks like a bowl.
In the case that the contacts appear to be inside out, with careful attention not to break it, flip the contact lens over.
Now, it's time for the part most new contact lens wearers are usually scared of.
Place a mirror in front of you to avoid the confusion that comes with wearing contact lenses. While looking at the mirror, use your index finger to hold up your upper eyelid. This would be the non-dominant index finger since the other hand would be holding the lens.
Ensure that you are looking straight ahead and that your cornea is not hiding at any corners of your eye.
As soon as you see your cornea – as circular as a ball, place the contact lenses in your eye and then slowly shut your eye. Some people roll their eyes around while others gently blink or press on their closed eyelid to keep the lens in.
If you feel uncomfortable after this step, gently pinch the lens to remove the contacts.
To put the second contact lens in your other eye, use the same hand and repeat the steps.
Note: Some lens wearers prefer to interchange their hands with the eye for ease and comfort. For instance, if you want to place the lens in your left eye, you can use your left hand to pull your upper and lower eyelid while using your right hand to put the lens in your eye. The same goes for your right eye.
See full guide: How to Properly Put on Contacts – A Detailed Guide
Removing contacts
Removing lenses is also an easy trick to follow. After washing your hands, drop a few eye drops into your eye for moisturizing and easy removal.
You can also use rewetting drops, but just remember to gently shake both bottles before applying.
After moisturizing, gently pinch the contact lenses, pulling them off your cornea, then place them in your contact case.
Learn more: How to Remove Contact Lenses
Hard vs. Soft contact lenses
Most people ask if there is a difference between putting in hard or soft lenses? The simple answer is no! Though hard lenses are more prone to eye infection than soft lenses, but that would only mean you should be more careful with your hygiene when handling hard contact lenses.
Get to know different types of contact lenses >>
Start With the Same Eye (Every Time)
Another trick that most people skip is this. When wearing your contact lenses, always begin with the same eye. This is so that you won't mix up your contact lenses. While this might not be severe if you are on cosmetic lenses, it is essential for those wearing contact lenses for vision correction.
Eye makeup and contact lenses
If you love wearing contacts but also love makeup, this might be a tricky one. But we've got the answers.
Before anything else, always put in your contact lenses first before you apply makeup to your face. But even still, you still need to be careful so as not to contaminate the lens with makeup products.
Something you can do to ensure your contacts are free from contamination during eye makeup is to start with clean hands.
Also, always use a buttery liner and a precise brush to apply eyeliner to your eyes. Refrain from using liquid eyeliner that can drip onto your lenses.
Mascaras can also be tricky, so opt for an Ophthalmologist-approved brand (don't forget to ask for waterproof). Finally, if you want to remove your contacts, do so before removing your makeup.
Follow the Wearing and Replacement Schedules
Always adhere to your prescription to ensure your contacts work properly. Never use contact lenses to sleep or for longer than your eye doctor has prescribed.
The only lenses that you can wear to sleep with are continuous-use contacts or those recommended for extended wear.
Also, ensure to follow your replacement schedule by regularly replacing your contacts.
Follow Doctor Recommendations
The doctor knows best!
Before purchasing or using any lens, be sure to contact your eye doctor for the best prescription. Also, visit an eye care professional for an eye exam before using switching from glasses to contacts. Note that prescription glasses are different when you are wearing contacts. Since contacts are closer to your cornea, the readings would change a bit. That's why it is crucial you visit an eye doctor before using contacts.
But that's not all.
Every eye care professional usually provides a list of things for you to do and not to do. While some of these things are plastered all over the internet, some might be unique to you. So ensure you follow them.
If, at any point, you have complaints or feel uncomfortable in your lenses, visit your eye doctor. Here are a few things you might need to look out for:
Blurry Vision
A few people experience blurry vision after applying their contact lenses, and this could mean that the lenses are not placed right (remember to flip inside out). It could also mean that the lens is dirty. However, if you have cleaned it and your vision is still blurry, head on to the nearest clinic.
Irritation or Dryness
Dryness is a common symptom of wearing contacts. But you shouldn't purchase just any type of eye drops or rewetting drops. So visit your eye doctor to know the best way you can relieve dryness of the eye.
Fungal eye infections can occur even with proper contact lens care
Don't think you're free from eye infections. You can still contract these infections even with proper care of your lenses. That's why you need to go for your regular checkups with the doctor and replace your contacts when recommended.
Read more on: Contact Lenses and Dry Eye Syndrome
See some of our products and order contacts without prescription:
Check our offer:
Conclusion
Now that we have driven past the learning curve, wearing contacts should almost feel like second nature to you. Nonetheless, remember that practice makes perfect. The more you go at it, the better and more comfortable it'll become. Good luck with your new contacts!