How to Clean Your Contact Lens Case
Are you guilty of worrying so much about your contact lenses that you almost forget the contact lens cases? Don't worry. You're not the only one. Many contact lens wearers care a lot about their lenses – disinfecting them, storing them properly, and even handling them with the most care in the world. But what about the cases? Exactly!
In this guide, we'll talk to you about the what, why, and how to clean your contact lens case to evade possible eye infection cases and, most of all, keep harmful bacteria away from your eye. If you've signed up for this by clicking on this article, then let's jump right in!
Why You Should Clean Your Contact Lens Case
Let's start with the 'why.' Why SHOULD you even be spending so much time cleaning the case? The first reason to clean your contact lens cases is for every other reason you clean things – to prevent them from being dirty. No matter what you do or don't do with your contact cases, it will get cloudy with time (kind of like your toothbrush handler or your rack where you keep your plates).
But beyond keeping away the dirt, there are a few other things a clean contact lens case will help you get rid of:
It will protect your lenses and keep infections out of your eyes.
If the lens case does not have enough solution or the contact solution is infected, your lenses could be at risk of drying out.
Speaking of dried-out lenses, they could also become prone to cracks or scratches.
If you don't clean your contact lens cases, the lenses can become a breeding ground for harmful bacteria.
When lens cases are used repeatedly without a regular cleaning routine, they can cause eye infections and potentially loss of vision.
4 Simple Steps for Cleaning Your Contact Lens Case
Straight into it, here are the four steps to a clean contact lens case.
Empty the case: Empty the contact lens solution from the case. Don't be tempted to keep the old solution. It should always be replaced with a fresh solution.
Coat the case: The next step is to coat the inside of the contact lens case with your fingers. Make sure to wash and dry your hands before you begin.
Disinfect the case: Thirdly, disinfect the lens with a disinfecting solution or scalding hot water. This will stop bacteria growth and keep the case healthy.
Rinse the case: Finally, use a contact cleaning solution to rinse the case. Remember that this should not be done with any old solution but only with fresh contact lens solutions. Dry the case with a lint-free towel.
How Often Should I Clean My Contact Lens Case?
The simple answer is every day! Whenever you use your contact lenses, you should clean the case using the four steps above. But isn't this stressful? Not really. All you have to do is empty the contact lens solution in the case, use your fingers to coat it, rinse and disinfect it with a disinfecting solution bottle, and then air dry it. Easy!
When Should You Replace Your Contacts Case?
It's easy to forget that just like contact lenses; most contact lens cases aren't meant to last forever, so replace them on a regular basis to keep your contacts clean and healthy for your eye. Remember also that you'd need to replace your contact lenses as well. For instance, you'd need to replace the daily contact lenses with every use.
How Often to Replace Contact Lens Case
Your contact case should be replaced every three months if you wish to keep them healthy for your lenses. If you have exhausted the solution that came with the case of your contact, you might need a new case sooner. Also, if you are a frequent lens wearer, you might need a replacement on a monthly basis.
How To Sterilize Contact Lens Case?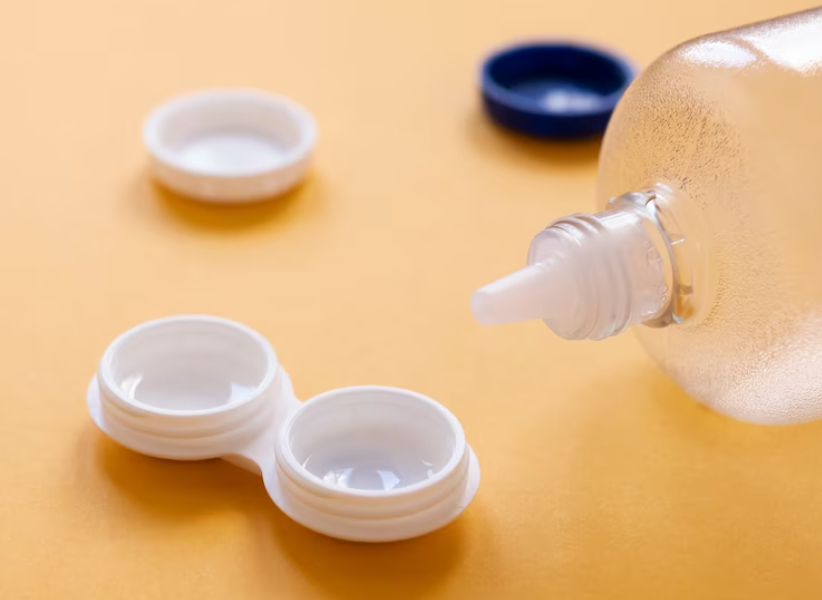 There are a few ways you can sterilize the case of your contact. You can either use a contact solution or a hydrogen peroxide-based solution.
However, the number one way NOT to sterilize the case is to run it through the dishwater or a tap water system. Not only does the water contain bacteria that can later lead to eye infection, it only keeps your contact lens case clean and does not sterilize it.
Boiling Contact Lens Case
Some online information has recommended this method, but we strongly advise AGAINST it. Do not boil your case in boiling water. Don't! No eye doctor advises this, and certainly, no one has gained from doing so. Stick to the solutions that have been mentioned earlier.
Which Contact Lens Solution to Use For Case Cleaning.
Speaking of the lens solution options, the solution you should look to for cleaning and disinfecting are:
cleaning solution
disinfecting or any other related solution for contacts
contact lens solution
hydrogen peroxide-based solution (if prescribed), or a
multi-purpose solution
Never use an old solution to disinfect or clean your case.
Can I Clean My Contact Lens Case With Alcohol?
Please, do not clean your cases with alcohol. This is highly recommended against, and it will only cause harm to your cases and your eye health.
I Washed My Contact Lens Case With Water; What Now?
Let the case dry first. After it is dried, coat the case with clean fingers, disinfect it with the right solution, and rinse.
Recommended read:
Check our offer: