Benefits of Buying Monthly Disposable Contact Lenses
When you talk about contact lenses, there are plenty of options available out there in the market. Daily, weekly, monthly, and more, there are so many options for you to select from. But, why are we talking about just monthly disposable contact lenses? Well, simply because they have plenty of benefits as compared to other options.
What are those benefits? Well, let us have a look at those benefits –
Affordable
One of the best things about monthly contact lenses that you will notice when you buy them is that they cost quite less as compared to the daily option. You might have to pay more amount of money at once, but when compared to the amount you would have spent on daily option during the course of time then you will realize that monthly disposable contact lenses are a much affordable option. So if you are looking to save some money from your pocket, then trying out monthly disposable lenses can be just the perfect idea.
Comfortable
Monthly contact lenses are made using silicone hydrogel. This material not only lets more oxygen through to keep your eyes clear, but also is more comfortable to wear as well. That's what makes them a more comfortable option for you to wear as compared to any of the usual contact lenses that you have been wearing. In a way you will be saving money and at the same time getting a more comfortable option to wear. It is like killing two birds with one stone, which I am sure you are going to love!
Wear for long
The best part about these monthly lenses is that you can wear them for a longer duration as compared to the usual options. You might choose to buy these contact lenses without prescription, but you need to have at least gone to an eye specialist recently to have your eyes tested. This will make sure that you are choosing the right power so that there is no problem once you start wearing the contact lens.
As you can easily see there are plenty of benefits of using these monthly disposable contact lenses. If you have not tried them, then it is time for you to give it a try. You can visit someone like Contact Lenses 4 US to get access to buy the best contact lenses without prescription online and save yourself from all the trouble.
Read also:
Give Contact Lenses Without Prescription A Try Today
How to Choose The Best Contact Lenses to Meet Your Needs
How to Find Lost Contact Lenses
Soflens 38 contact lenses
Can't stand wearing the same contact lenses all day for a month? You're probably dealing with the visual quality getting ...
1-DAY ACUVUE MOIST without a prescription
1-Day Acuvue Moist Contacts are available without doctor prescription The 1-Day Acuvue Moist Contacts are designed to be worn...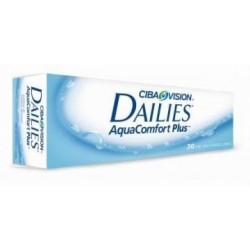 DAILIES AQUA COMFORT PLUS (30)
The Dailies Aqua Comfort Plus made by CIBA Vision (now Alcon) comes with 30 lenses per box, good for 1 month use. It gives yo...