What Can You Expect from Daily Disposable Contact Lenses?
The obvious answer is that daily contact lenses will eliminate the need for you to clean and store contacts every night before you go to sleep. Expect total convenience with this type of lens. Firstly, let's get to know daily contacts better!
What are daily contact lens?
As the name suggests, daily contact lens are worn for one day only and then disposed of. This means there is no need to clean or store them overnight – simply wear them during the day and throw them away when you're done.
How often should I replace my daily lenses?
You should replace your daily lenses every day, even if you haven't worn them. This is because they can start to dry out overnight, which can make them uncomfortable to wear the next day. It's also important to remember that lenses are a breeding ground for bacteria, so it's important to start each day with a fresh pair of lenses.
What are the benefits of wearing daily contact lenses?
There are many benefits to wearing daily disposable contact lens, including:
1. They're very convenient – there's no need to clean or store them, so they're perfect for busy people or those who travel often.
2. They're hygienic – because you dispose of them each day, there's no risk of them becoming contaminated with bacteria.
3. They're comfortable – because they're fresh each day, they're less likely to cause irritation or dryness.
4. They're good for your eyes – studies have shown that wearing disposable lenses can actually help to reduce the risk of certain eye infections.
What are the disadvantages of daily contact lens?
The main disadvantage of daily disposable contact lenses is that they can be more expensive than other types of lenses like monthly lenses or two-week lenses. However, when you consider the benefits they offer, many people feel that they're worth the extra cost.
When to Choose Daily Contact Lenses?
There are a few different scenarios in which daily contact lenses would be the best for contact lens wearers:
If you wear contacts only occasionally, it may be more convenient to use disposables rather than cleaning and storing lenses every time you want to wear them.
If you're new to wearing contacts, disposable lenses can be a good way to try them out to see if they're right for you.
If you have allergies or sensitivities, disposable lenses are a good option because they are not contaminated with bacteria.
If you have astigmatism, disposable lenses are available to correct this condition.
Are Daily Disposable Lenses Good for Dry Eyes?
If you suffer from dry eyes, you may find that wearing contact lenses can actually help to improve the symptoms. This is because the lenses act as a barrier, protecting your eyes from the air and from drying out.
If you're considering switching to daily disposable contact lenses, talk to your eye care professional to find out if they're right for you.
What are The Best Daily Disposable Contact Lenses in Our Opinion?
There are a lot of Daily Disposable Lenses on the market, but we've narrowed it down to our top 10 picks.
1-Day Acuvue Moist: Like Natural Tears
Our eyes produce tears mainly for moisture, which is crucial for overall comfort. That's why the 1-Day Acuvue Moist contact lenses contain moisture that will never leave the material for consistency.
Specifically made possible by the special LACREON technology, these contacts can make your eyes feel super-comfortable all-day because it will feel like natural tears. It's as if you're not wearing lenses at all, which is exactly the goal of most users. More importantly, the constant moisture and enhanced comfort contribute to healthier eyes, somehow proving that this product has long-term effects.
1-Day Acuvue Moist for Astigmatism: Correct Refractive Error
If you think correcting astigmatism requires a challenging set of contact lenses, then you're in for a treat. It doesn't have to be difficult after all. You just need to find the right contacts, and one of them is the 1-Day Acuvue Moist for Astigmatism. You can expect the same amount of moisture, which is a huge plus.
Not only are you going to have better vision, but your eyes will also feel a higher level of comfort than what you can get from ordinary lenses for astigmatism. Let's not forget that these daily disposable contacts are very convenient, making you forget that you're actually dealing with a potentially serious condition.
1-Day Acuvue TruEye: UV Protection
Protecting your eyes from the ultraviolet (UV) rays of the sun can be difficult for they come in two different types: UVA and UVB. Those UV rays have different effects, requiring more ways on how to filter or block them.
Fortunately, the 1-Day Acuvue TruEye contact lenses can guarantee both UVA and UVB protection. In fact, they promote the highest level of protection possible with at least 98% of the UVA rays blocked and 99% of the UVB.
As a plus, these contacts use Hydraclear technology for moisture and oxygen permeability. You'll have a blast doing more outdoor activities because of the impressive combination of UV protection, comfort, and convenience.
Acuvue 1-Day Define Natural Shimmer: Enhanced Colour
Contact lenses aren't just for more serious functions like vision correction and treatment of dry eyes; they can also be primarily used for cosmetic purposes. However, having more beautiful eyes doesn't have to be all about changing their colour. A lot of people simply want a healthier-looking version of their eyes.
And, that's where the Acuvue 1-Day Define Natural Shimmer contact lenses come in. Their effect is subtler yet the improvement will be noticeable. They simply aim to enhance the natural colour of your eyes.
Acuvue Oasys 1-Day with HydraLuxe: Refreshing Effect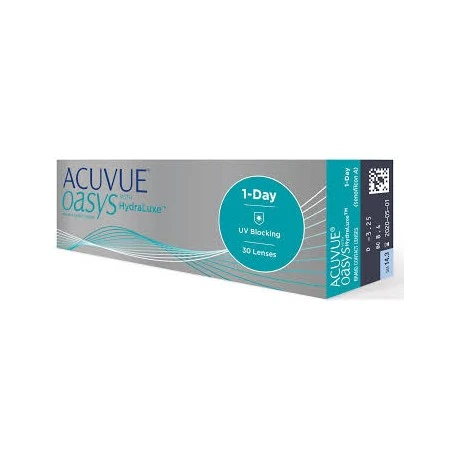 Perfect for desk workers, especially those who have no choice but to work with a computer for several hours, the Acuvue Oasys 1-Day with HydraLuxe can effectively keep your eyes alert. It prioritizes a higher oxygen permeability rate to prevent tired eyes. You'll really feel the difference because of the refreshing feeling of wearing contact lenses containing 38% water and allowing 98% oxygen.
Digital eye strain is a big problem among office workers, and that has to stop. The dry air from ACs only worsens the problem caused by blue light from computer screens, and these contact lenses can solve that through neverending moisture.
Dailies AquaComfort Plus: Instant Moisture
Considered to be the first-ever product to work with three moisturizing agents, the Dailies AquaComfort Plus contact lenses can prevent irritation, dryness, and general eye discomfort. And, the best part? A sufficient amount of moisture is provided every single time you blink. You don't have to get anxious about whether or not your eyes are getting enough moisture.
Since the insertion of contact lenses can be an extremely uncomfortable or nerve-racking experience for some people, this product wants to make that process so much easier. As soon as you blink the lens into place, it automatically releases moisture for a smoother and more refreshing feeling. Wearing contacts for the first time won't be such an off-putting experience anymore.
Daily disposable contact lenses
Contact lenses without prescription
Dailies Total 1: 16-Hour Use
Working all day and partying all night seems like a dream if you're a contact lens wearer. Sure, you can wear contacts for 16 hours, but low-quality options will make you want to remove your lenses as soon as possible because of the undeniable discomfort.
That's definitely not the case with the Dailies Total 1 contact lenses. They will feel so light and gentle on your eyes that you won't feel anything strange for up to 16 hours.
Freshlook One Day: Different Colour
While the cosmetic contacts we've discussed earlier can only make your natural eye colour more vivid and attractive, the Freshlook One Day contact lenses can give a totally different colour. This is perfect for costume parties and other fun events or occasions.
The effect of these contacts is so bold that it can change your eye's appearance whether it has a light or dark colour. You can choose from natural colours like grey, blue, green, and hazel.
Proclear 1 Day: Smoother Feeling
A common complaint about using a new pair of contacts for the first time is that there's a rough, "sandy" feeling in the eyes. What you need is a lens that has an extremely smooth surface for the inside of your eyelid. One great example is the Proclear 1 Day contact lenses.
This product uses PC hydrogel to contain enough water for endless moisture. It's more than that, of course, with its promise of better vision quality.
SofLens: Low Light
Here's a unique purpose of contacts–a better vision in dim light. Amazingly, the SofLens contact lenses are specifically designed for night use (not while you're sleeping, of course). They're perfect for people who work during graveyard shifts because of the crisp vision they can get from these lenses even in low light.
Expect comfort from these contact lenses, too. They use Comfort Moist technology to prevent irritation.
Conclusion
If you're looking for a new and improved way to see the world, then it's time to try out daily disposable contact lenses. These lenses offer so many benefits that you'll wonder why you didn't switch them sooner. From comfort to convenience, there are so many reasons to love these lenses. If you are still not sure what brand to pick, please contact your eye doctor for advice. Give them a try and see for yourself!
Also check:
Is There Any Age Limit on Wearing Contact Lenses?
You Should Know How Often Should I Clean My Contacts Lenses