Daily Contact Lenses Pros and Cons
Knowing that there are different types of contact lenses out there can be comforting. This means you'll be able to choose the perfect product for your eyes, lifestyle, and preferences. One popular variation you should consider is the daily disposable contact lenses. Any person can use it as long as the material is safe and effective. However, just like any other lens type, it has its downsides. Find out if it's the right kind of contacts for you by learning its pros and cons.
What are daily contact lenses?
As the name suggests, daily lenses are meant to be used once and then discarded. You can wear them for a maximum of 24 hours before you have to take them out and throw them away. They're also called one-day or daily-wear lenses.
Daily disposable contact lens are usually made of soft plastic. This material is safe for your eyes and is designed to be comfortable. The lenses are also easy to insert and remove.
There's no need to clean or store them. You can simply pop them in before you start your day and then take them out at night. This means you don't have to worry about solutions, cases, or anything else.
What are daily contact lenses made of?
Daily contact lenses are typically made from a soft and permeable material. This allows oxygen to pass through and reach the cornea, which is essential for maintaining healthy eyes. The lens material is also designed to be comfortable so you can wear it all day without any irritation. Silicone hydrogel materials are the most popular choice for daily contacts since they provide all of these benefits.
The Advantages of Daily Contact Lenses
Check out the reasons why daily disposable contact lenses may be ideal for you.
#1. Vision problems solved without lens cleaning
Let's start with the obvious. A lot of people are choosing daily disposable contacts over other types of contact lenses mainly because of convenience. While other contacts are forcing you to disinfect and store them every single night without any mistake, daily disposable lenses just need you to remove them carefully from your eyes and throw them away.
You need to observe, of course. The right trash bins for contact lenses are the ones labelled for solid waste. If you don't mind going the extra mile, you can give your discarded contacts to some opticians who support recycling of lenses. You can even coordinate directly to some manufacturers that recycle not just contacts but blister packs as well.
On the other hand, the wrong way to throw contact lenses is by flushing them down the toilet. Dropping them into an open sink drain is also a big n0-no.
#2. Daily contact lens are perfect for travel.
Bringing a storage case and a bottle of the best solution for your contact lenses is crucial when you're out of town for several days or weeks. Wearing contact lenses 24/7 (unless you're wearing the extended wear lenses type) will seriously infect your eyes. Also, if you won't disinfect, dirt will only accumulate on the material.
Sadly, as you use monthly contact lenses or bi-weekly lenses, there will always be the possibility of you forgetting their case. Sure, you can buy new ones in your destination, but you still have to choose the right product for your eyes. That can be time-consuming, which is a huge inconvenience. It's best if you have disposable contacts for emergencies.
#3. Wearing fresh contact lenses is more comfortable.
Just because a pair of contacts is properly disinfected and stored in the right container doesn't guarantee a refreshing feeling in your eyes. Contact lenses fresh out of their packs will always be more comfortable to wear.
It turns out that constant use of the same pair of lenses may result in sensitivity to the contact solution. The material may also break down bit by bit, giving a different feeling to your eyes.
Use of 1 day lenses is much better for your eye health than reusable lenses .
#4. You get to save more money in the long run.
The price of daily contact lenses may initially be higher than that of other types. But if you're going to wear them every day and dispose of them at the end, you don't need to spend anything else on cleaning solutions and cases. You just need to keep your hands clean and dry before inserting them in your eyes.
#5. Limited exposure to microorganisms.
Your home may look clean, but microorganisms are everywhere. If you use monthly contact lenses, you're more likely exposing them to bacteria every time you remove them from their containers. That can go on for 30 days, which increases the odds of germs contaminating the material.
Also, substances found naturally in your eye , such as tears and mucus, can build up on the surface of your lenses. If not removed, they can cause infections.
When you use daily lenses, however, you're only exposing them to microorganisms for less than 24 hours. You also get to remove any buildup of natural substances before putting them back in your eyes.
No wonder single use lenses are safer than other lenses. Before discarding them, you can only use them once. After taking them out of their packs, you immediately wear them. That clearly decreases the risk of exposure to microbes, especially the type coming from your fingers.
To give you an idea of possible infections commonly caused by contact lenses, we're going to briefly discuss microbial keratitis. This type of infection can be bacterial or fungal, depending on the root cause.
Bacterial keratitis is usually caused by dirty hands and improper storage. Meanwhile, fungal keratitis is more related to the effects of cleaning solutions.
How serious is microbial keratitis, anyway? Why should it be avoided at all costs?
The pain you may get from this infection can be unbearable. Your eyes may also look off-putting due to intense redness, oozing discharge, and light spots. With all of those signs or symptoms, it's not surprising that microbial keratitis can affect your vision. Your surroundings may appear blurry.
The Disadvantages
The downsides of daily disposable contact lenses are more about their impact on the environment and cost. Learn more about them below:
#1. Contact lenses are soft and tiny yet dangerous to marine life.
How is that even possible? Remember when we mentioned that you should never use toilets and sink drains to discard contacts? Unfortunately, some people do that. They contribute to the increasing harm of wastewater to the environment.
Contact lenses mixed with wastewater are vulnerable to the microbes used in treatment facilities. Yes, they disappear eventually due to their plastic material breaking down, but that's not a good thing. Plastic remains as particles in the water, endangering the life of marine organisms. It can't be digested, so it will stay in the digestive system of animals.
And, worse, those animals can be consumed by humans. Plastic substances in food can cause serious illnesses like cancer.
Be part of the solution by discarding daily disposables correctly. You can even reduce the number of lenses you throw away by wearing weekly or monthly contacts.
#2. Limited choices
The number of companies that produce 1-day lenses is limited compared to those that manufacture other types of contacts. You may not be able to find the perfect design, power, and brand that you want.
The good news is that the number of choices for daily disposable lenses is increasing as the demand increases. You just need to be patient and do your research until you find the right one
#3. They're not ideal for sports
Do you often play sports? If you do, daily contact lenses may not be the best choice for you. They tend to dry out quickly, which can be very uncomfortable. You may also have a hard time seeing clearly if your lenses get wet.
If you must wear contacts while playing sports, opt for the reusable contact lenses like extended wear type. You can wear them for up to 30 days and nights without taking them out. Just make sure to clean and disinfect them properly before using them again.
#4. They're not for everyone
Just like any other type of contact lens, daily disposable lenses have their own set of limitations. If you have dry eyes, for example, you may not be able to wear them for long periods of time. The same goes for people with sensitive eyes.
If you're not sure if daily disposable lenses are right for you, it's best to consult with your eye doctor first. They can help you decide if this type of contact lens is suitable for your needs.
Choosing contact lenses for daily usage
Now that you know the pros and cons of daily contact lenses, it's time to choose the right one for you. Here are a few things to keep in mind:
Power: Just like other types of contacts, daily contacts come in different powers. Make sure to choose the right one for your eyes.
Size: Lenses come in two sizes: 14.2mm and 13.8mm. The former is ideal for people with small eyes, while the latter is better for those with large eyes.
Design: There are many designs to choose from, so take your time in picking the right one. Remember that the design will affect the way your lenses look on your eyes.
Brand: There are many brands that produce high quality lenses, so pick one that you trust. You may also want to ask for recommendations from your friends or family members or use vision correction services to make the best reaserch, and exam your vision problems.
Conclusion
The pros and cons of daily disposable contact lenses can help you decide if you can't choose between them and monthly products. For convenience and safety, daily disposables are better. However, if you want to save money, you may stick to monthly or bi-weekly contacts. Those options are also more environment-friendly.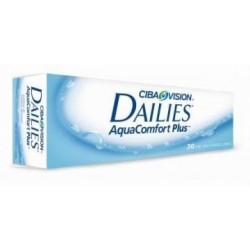 DAILIES AQUA COMFORT PLUS (30)
The Dailies Aqua Comfort Plus made by CIBA Vision (now Alcon) comes with 30 lenses per box, good for 1 month use. It gives yo...
1-DAY ACUVUE MOIST without a prescription
1-Day Acuvue Moist Contacts are available without doctor prescription The 1-Day Acuvue Moist Contacts are designed to be worn...
You will also like:
The Case of Daily Contacts – Discard Daily or Wear it For Longer?
Daily Disposable Contact Lenses – Whether it is Worth it to Choose?
How to Take Care of Your Eyes in Summer: 10 Tips for Eye Care